What is watch lume?
In the simplest terms possible, "lume" refers to the glow-in-dark elements of a watch, most commonly used on the hands and hour markers of the dial, but also known to be found on the bezel, crown and other parts of the watch.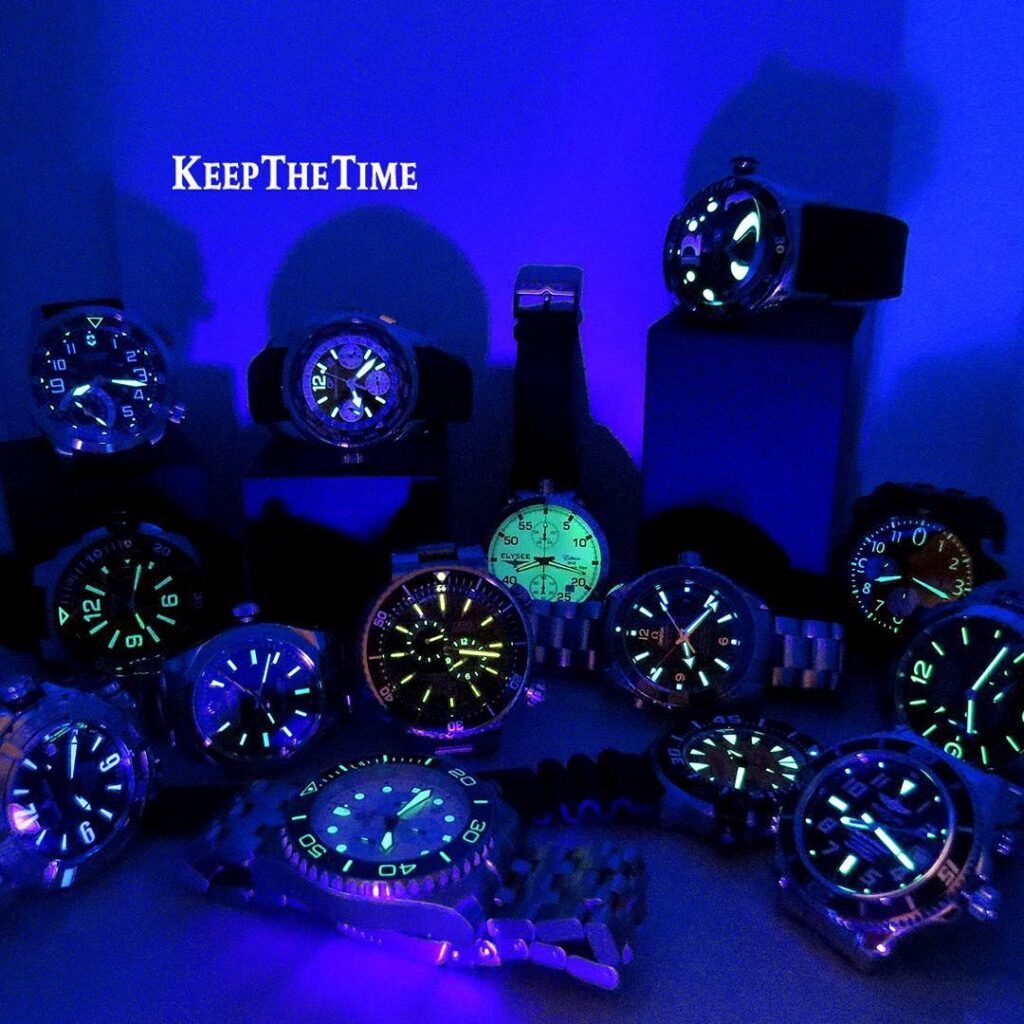 Lume, Lumens, luminous, luminescence, whatever label you put on it, it's the glow.
This glow we're talking about comes in different types, but most modern wristwatches today use phosphorescent material to safely achieve visibility in dark conditions. In the past, watch lume was created using radioactive materials such as radium for the glow.
While there are still vintage watches out there with radium on their dial, the glow from those timepieces will likely be non-existent at this point. When that happens, some watch collectors choose to relume their old watches with non-toxic lume material such as Super-LumiNova.
What isn't lume?
Not all watches that light up have lume. Some watches are equipped with a battery powered light inside. Take a Timex Indiglo watch or the Pixo watch shown below. These types of watches aren't considered to be watches with lume, they are simply watches with a backlight function. You can also find watches with a built-in flashlight.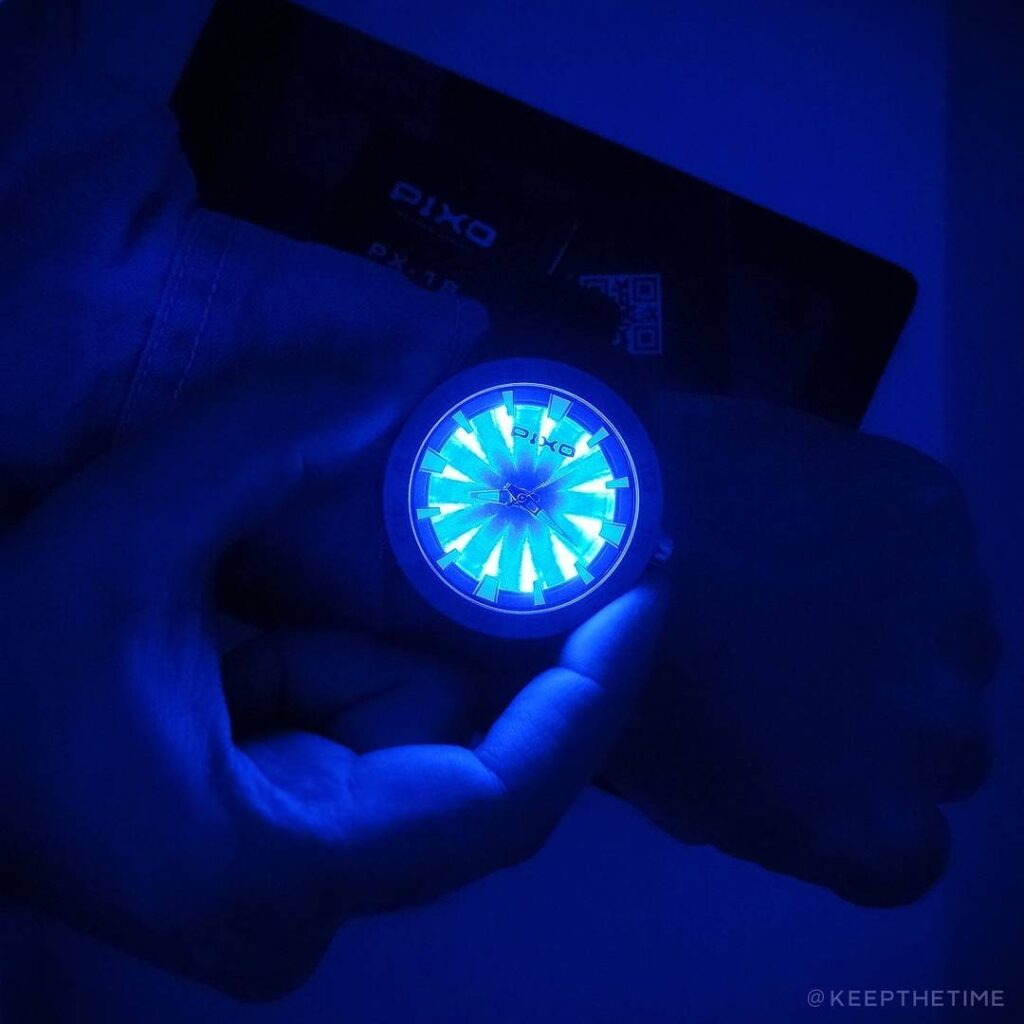 Different types of lume
There are many different types of watch lume. Lume can come in the form of a paste, a powder pigment that needs mixed with glue to form a paste, paint, and even a tiny glass tube (tritium).
Tritium Lume
Tritium lume typically comes in the shape of cylindrical or flat glass tubes. The tubes are filled with a gaseous light source which emits constant glow for many years (the expected duration can vary).
As Luminox explains:
"This unique and advanced Swiss technology allows the watches to ensure at-a-glance visibility, meaning the watches provide a constant glow 24/7 for up to 25 years. While other watch brands use a phosphorescent paint on the markers that require an external light source to produce a "luminous effect", Luminox does not. . . . The proprietary technology lies in the functionality of the tiny tritium gas tubes, otherwise known as borosilicate glass capsules, which remain ALWAYS VISIBLE on the hour markers, hands, and in some cases on the bezels. This technology is especially unique in that although it contains tritium, it is completely safe for day-to-day wear."

Source
And here is how Ball Watch Company describes their use of tritium lume:
"The BALL Watch advanced technology safely captures tritium gas (H₃) in a very stable form. Pure tritium gas is sealed in a hollow mineral glass tube. The interior walls are coated with luminescent material that gives off cold light when activated by the electrons emitted by the tritium, in much the same way a television screen functions.The small, precise, lightweight H₃ gas tubes are efficiently produced by means of a CO2 laser. The tubes are then attached to the hands and dial in a secure manner that precludes any risk of breakage. The wearer of a complete and intact BALL watch is not exposed to any irradiation. When assessing risk over the entire life cycle of the watch, the potential irradiation proves to be far smaller than the one which the wearer is inescapably exposed to from naturally occurring radiation and man-made materials."

Source
Examples of watches with Tritium lume
Below is a close-up macro shot of a tritium tube on the hour hand of a vintage Luminox Navy Seals watch.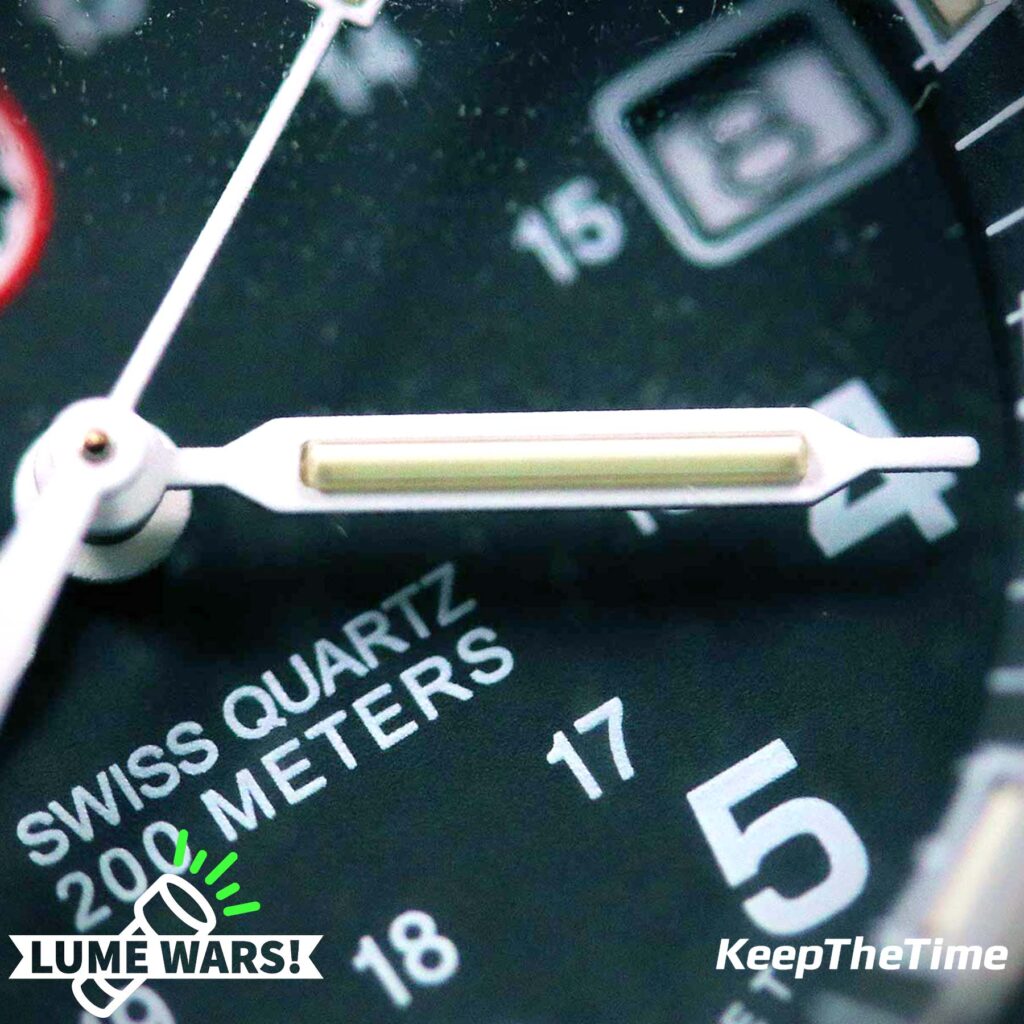 Here is an example of vertical H3/T25 tritium tubes on a Vostok Europe.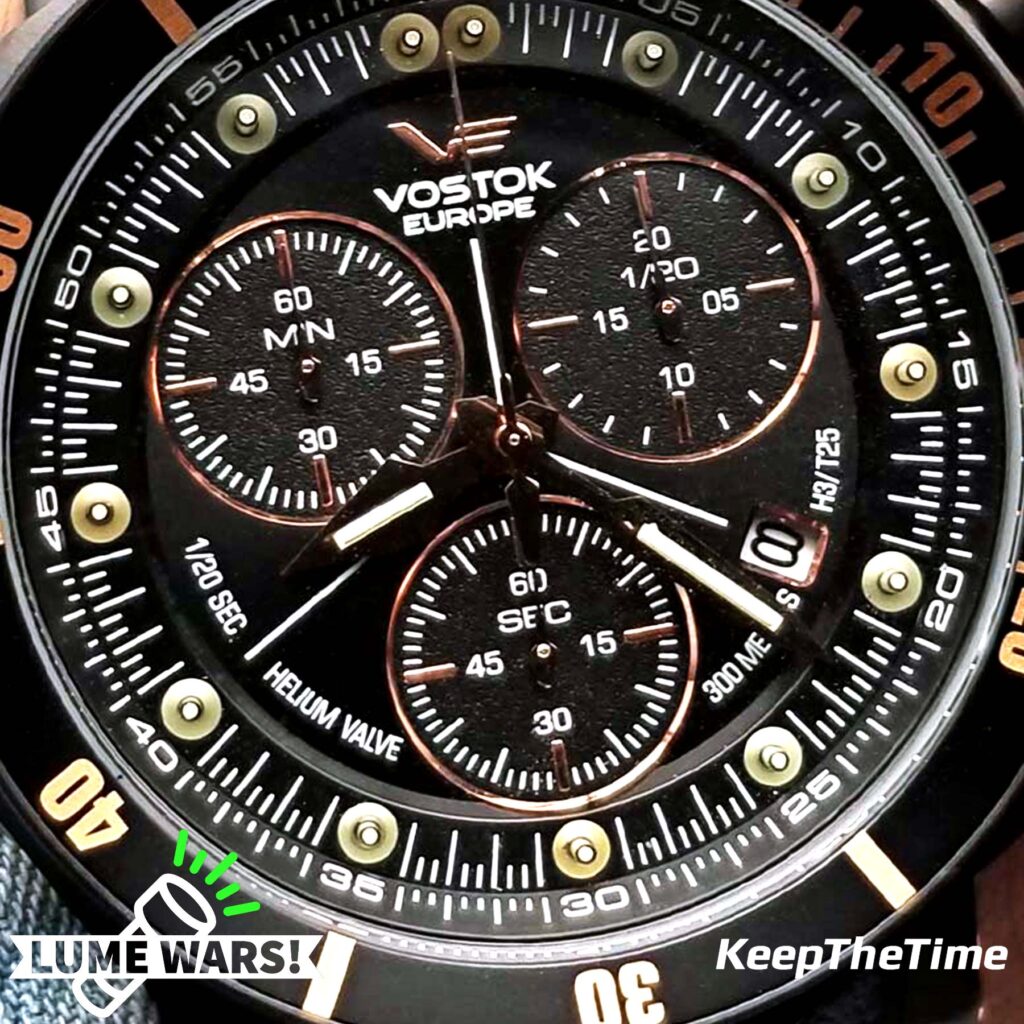 Note about the next series of images: Since tritium is constantly glowing and not charged by external light sources, it is not as easy to capture photos of tritium compared to other types of lume – unless using a very long exposure to take the picture. While a UV torch does not charge the tritium, the tritium is more visible while under a UV light source. This is why you may see images of tritium with blue or purple glowing in the background. This is only used to show the colors and design of the tritium, but not an indication of how bright it will glow in the dark.
Next is a Ball Engineer GMT with multiple colors of tritium. Notice how the tubes were positioned to form Arabic numerals, as well as the vertical tube acting as the lume pip at 12:00 on the internal rotating bezel.
Tritium tubes on a Lumiox Atacoma field watch.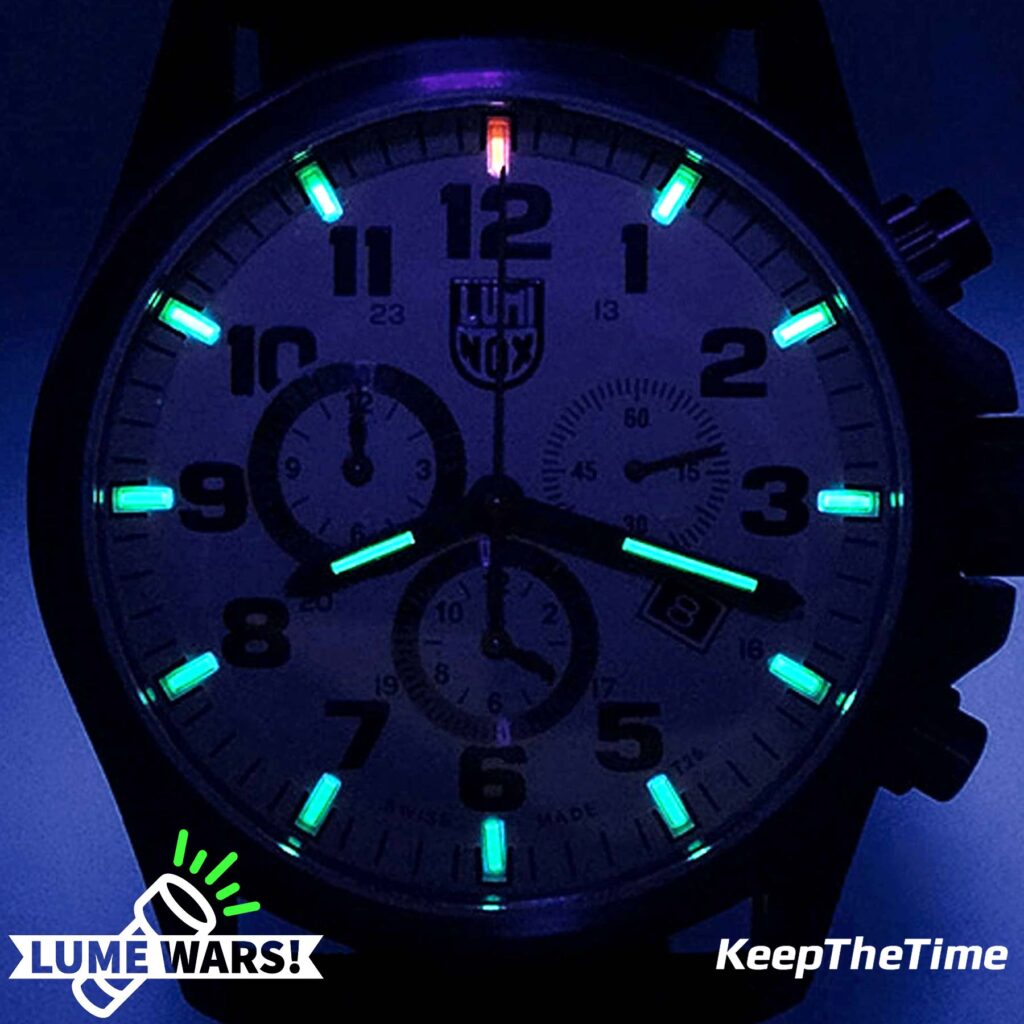 Another Luminox Navy Seal with tritium tubes, including one encased in the bezel at 12:00.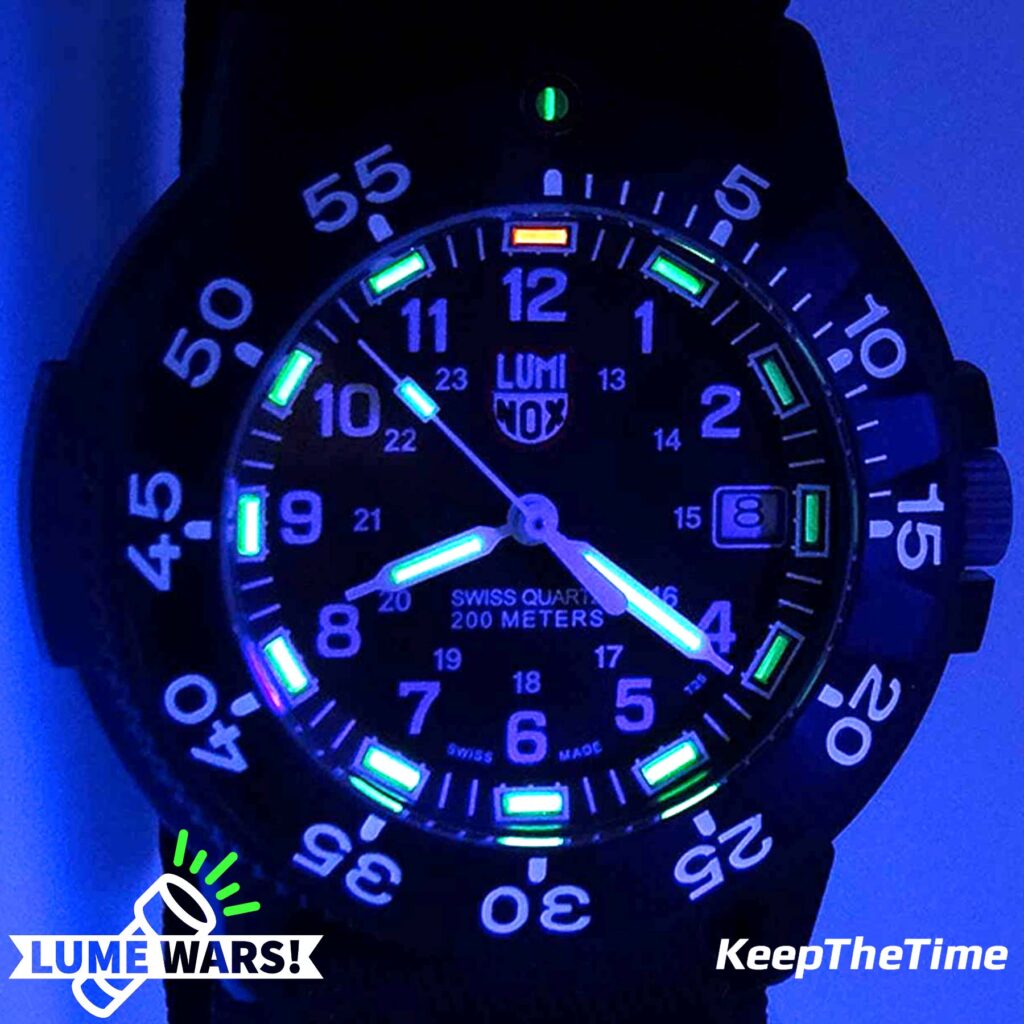 Below is a Nite Icon watch with flat tritium tubes for hour markers.
Popular Brands of Lume
Below are some of the most widely discussed lume types with links to in-depth articles about each:
How long does lume glow on watches?
The average watch seems to glow between 3-10 hours, but the answer is not straightforward. The length of time that a watch dial will stay visible in the dark depends of several variables, including the type of lume material used, how much lume was applied, how it was applied, the age of the watch, how long you charged the lume material in the light, etc.
It also depends on a few factors that most folks don't think about when searching for answers on lume quality: how dark is the environment you are in and how well adjusted are your eyes in that environment?
Please comment below about your experience with different lume and how long your watch glows…
What makes lume glow brighter?
There are three main things that affect how bright a watch's lume glows:
The quality and grade of lume material. Junk lume material is going to give junk results.
How much lume (thickness) or how many layers of lume were applied to the dial. Traditional lume is a mixture of lume pigment powder, varnish and a dilutor – a thicker mixture with more lume pigment can produce a brighter glow.
The design of the dial and lume placement. If your dial just has tiny dots for hour markers, the glow is not going to be as powerful as a full lume dial. Design and layout is extremely important when it comes to optimizing the glow output of lume.
How come some watches don't have lume?
Lume is seen as a tool on a watch, which is why it is mostly found on tool watches, and not on watches where it is not deemed by the watchmaker as necessary for timekeeping. For example, many luxury dress watches do not have lume.
For example, Rolex is known for the lume on their luxury sport model tool watches (Submariner, Sea-Dweller, etc.) but their Cellini dress watches do not have the same attribute. Glashutte Original produces luxury dress watches with no lume, but have lots of glow on their Sport Evolution Chronograph luxury tool watch.
It's not so much about the brand and more about the design and purpose of the individual watch model. This is also why you can find chunky dive watches with full glowing lumed bezels, hands and markers, or an elegant dress watch with only slightly lumed hands.
What is the purpose of lume on a watch?
The purpose of lume on a watch depends on the purpose of the watch.
Many dive watches have strong lume because it allows the time to be seen under murky waters. Tactical watches have lume to help see the coordinated mission time in dark environments. Pilot watches have lume to be visible in the cockpit during and overnight flight. Drivers watches have lume to see the dial in tunnels or pulling into carports. A dress watch may have a conservative amount of lume to be seen when the lights go down at an opera or play.
In short, the main purpose of lume on a watch is to allow the wearer to be able to tell the time in the dark. What good is a watch if you can't read the time on it?
How to charge lume?
Lume is charged by drawing and storing energy from light into the material. Your watch lume can be charged after being out in the sun or putting it under a light. The brighter and more powerful the light, the more energy will be stored, resulting in a brighter initial glow as well as longer lasting glow. All of this still depends on the type of lume, how much lume is on the dial, how old the lume is, etc. The fastest way to charge up your lume is with a special UV flashlight with a purple bulb (although be sure not to look at UV lights).
Note: If you have a watch with tritium lume, it is not possible to charge it. Tritium tubes emit a constant glow which does not get brighter or dimmer during it's lifespan. That's why a brand like Luminox (known for using tritium tubes on their watches) has this tagline:
Always Visible – Constant glow for up to 25 years.
Which watches have the best lume?
The answer to this question is subjective and may carry some bias towards the brands that a particular collector has more affinity towards, but there are some watch brands and models that are generally known for having impressive lume.
The thing to keep in mind, and the challenge with tackling the question of which watch has the best lume, is that good lume can mean different things to different watch enthusiasts. Some watch collectors think good lume means bright lume, while other may find more value in long lasting lume. Different lume materials, pigments, and applications will produce different results.
However, with all the technicalities aside, below is a short list of some watch brands that are often mentioned in conversations about lume. If you know of some brands or watches that aren't mentioned here, please feel free to add them in the comments section below.
List of watches and brands with good lume:
Omega

Omega Seamaster
Omega Planet Ocean

Seiko
Grand Seiko
Citizen
Lum-Tec
Victorinox
Reactor
Tudor
Deep Blue
The list above is for traditional lume. There are some brands known for their tritium dials as well, such as:
Ball Watch
Luminox
Deep Blue
Marathon
Vostok
Chronologia
Nite
Lume comparison Videos
The lumeshot comparison videos below are for reference purposes to see the different in different dial designs, colors of lume, and initial brightness of different use cases.
Rolex Chromalight VS Seiko LumiBrite
This video shows the color tone differences between Chromalight lume on a Rolex Deepsea Sea-Dweller compared to LumiBrite on a Seiko diver. As you can see, the Chromalight is more of a bluish green whereas the Seiko lume is a brighter green. (video source)
Rolex Chromalight VS Super-LumiNova
This video demonstrates the color difference between an Rolex watch with bright green Super-LumiNova and the Chromalight lume with a bluish tone. Both watches were produced in 2014, but Rolex is known for phasing out model changes, meaning that some dials could have one or the other type of lume even though the serial number or warranty card indicates the same year.
Rolex VS Omega Bi-Color Lume
Here is video comparing a Rolex Milgauss and an Omega Planet Ocean XL. Both watches have bi-color lume, but the contrast is more dramatic on the Omega.
How is lume applied to watch dials?
As discussed above, most lume is in the form of paint or at least a mixture of pigmented varnish, so it can literally just be painted on a surface. However, watches are about precision, not only with regards to the movement but also the design and overall fit and finish.
To get a high level a precision, many watch manufacturers use either silk screening or pad printing. This is not as straightforward as it sounds and requires special equipment and creating a perfect process for consistency.
Many watches have applied markers which means lume filled markers are attached to the dial. Dials with applied markers typically have tiny holes drilled through the dial.
How to repair lume?
If the lume on your watch is chipped or scratched, you may be able to touch it up. If the lume doesn't glow as brightly as it used to, you can get it relumed.
Dealing with lume is not always as easy or straightforward as it seems. If you just want to experiment or if you don't care much about the results, you can DIY – otherwise it is advisable to send your watch to a professional for reluming service.
If you're going to do it yourself, the first thing you want to do is narrow down the color and consistency of the lume. Super-LumiNova comes in touch-up kits with the pigment, varnish (binder) and dilutor, as well as a plastic mixing dish and stick. Rather than the included stick in the kit, some folks prefer using a watch oiler to apply the lume material.
The truth about watch lume
After writing about watches for years and researching lume for this article, it's hard not to think of lume largely as being over-rated or used as a gimmick or marketing tactic by some brands. You know good lume when you see it, but the majority of watches have lume that is so disappointing, they might as well not even have gone through the trouble of applying the material to the watch. This is where is starts to seem like a reflex by watch manufacturers, rather than a sincere focus. Far too many watches have lume on paper, but on the wrist the glow is minimal – this is why so many brands and watch sellers do not show a lumeshot in their sales presentation.
Even for watches with excellent lume quality and design, the lume effect is only as good as the watch wearer's habits. For example, a watch that is tucked under a shirt sleeve all day is not going to have enough energy stored in the lume to glow when walking into a dark closet or parking in a dimly lit garage. Unless the wearer has a tritium dial watch or intentionally charges their lume to plan for low light conditions, the watch will be difficult to see at night and they will ultimately end up reaching for their cell phone.
Additional Resources: